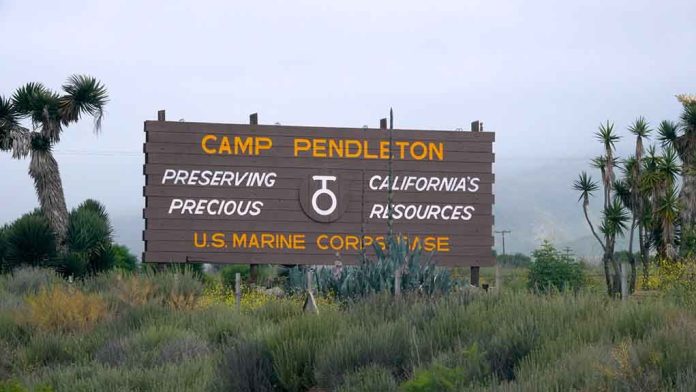 (IntegrityPress.org) – During Memorial Day weekend in San Clemente, CA, a group of 40 angry teenagers attacked and brutally stomped on three off-duty Marines following a dispute over fireworks. A video capturing the incident went viral, showing the Marines, who had identified themselves as such, being assaulted while cowering on the ground. The victims had been enjoying their time off at the beach when one of them encountered the group of teens. Authorities are currently investigating the attack, and the unidentified teenagers may face charges of assault with a deadly weapon for their involvement in the assault.
The approximately one-minute-long video, which was shared online, depicted the Marines, dressed in civilian clothing, attempting to ascend the steps outside the Pier Bowl while being verbally harassed by the group of teenagers. As they approached the stairs, one of the male teens brutally punched one of the Marines from behind.
In response, the Marine turned around and charged at his attacker, leading to a full-blown brawl as the assailant's friends joined in, throwing punches and kicks. San Clemente Mayor Chris Duncan condemned the "barbaric assault" on the off-duty Marines, emphasizing that such behavior goes against the values of the community. He assured the military and veteran community that the incident would be treated seriously and not tolerated in the city.
It was terrible that this occurrence happened over the Memorial Day weekend, Duncan said. The Orange County Fire Authority provided on-site treatment for the injured Marines, but they all declined to be taken to the hospital, according to the Sheriff's Department. Sgt. Mike Woodruff, a spokesman for the Sheriff's Department, stated that the injuries sustained by the Marines were slight to moderate. Authorities arrested five of the involved juveniles, consisting of four boys and one girl, on suspicion of felony assault. They were subsequently booked into Orange County Juvenile Hall. Four other minors involved were also arrested on unrelated charges.
Copyright 2023, IntegrityPress.org