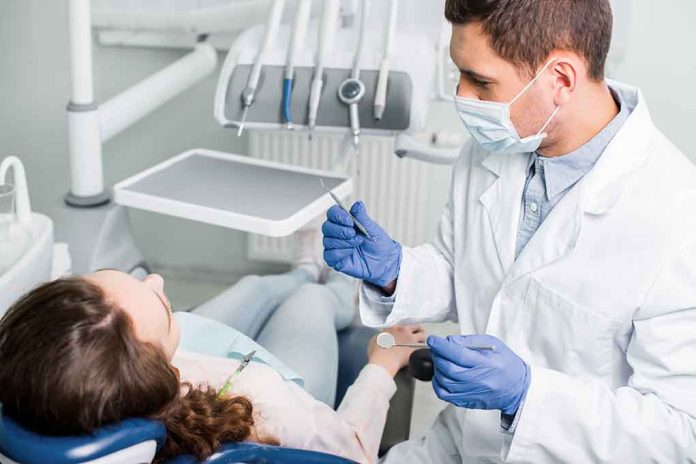 (IntegrityPress.org) – Those with a stellar memory may remember that in 2009, a car dealer in Missouri made national news when he implemented a sales gimmick at his Kansas City dealership. Mark Muller, the lot's owner, offered buyers their choice of either a gasoline or AK-47 voucher that would be honored if they chose to give the auto dealer their business.
According to reports, an apparent Second Amendment advocate and orthodontist in the Tar Heel State is now involved in a similar promotion, albeit with a handgun as opposed to a rifle. Wake Forest's Jason Gladwell is offering to give his Invisalign patients a credit towards what is arguably the most popular 9mm in the world, the Glock 19, should they sign up for the smile-correcting service.
"Grins and Glocks," the promotion's moniker, has been met with widespread chagrin among many on the left. USA Today, for instance, ran a piece that said Gladwell Orthodontics had "stirred up controversy."
Jennifer Copeland, who heads North Carolina's Council of Churches, said the promotion "will potentially create" violence and lead to gun deaths. The director said she found it mind blowing that a healthcare provider had chosen to align themselves with something that could result in the taking of life.
In interviews, Dr. Gladwell has noted that none of his patients are simply being handed a weapon, nor is he the one who is directly providing the pieces. As was the case with the Missouri car dealer, the orthodontist is merely providing a credit that patients can then take to a federally-authorized dealer.
According to Gladwell, customers who already have a Glock 19 or who don't want one for other reasons can apply the promotion towards a membership at the Youngsville Gun Club. The range also happens to be the middleman for the customer's required background check and transfer.
Align Technology, Invisalign's parent company, has made clear they had no hand in approving Gladwell's promotion.
Copyright 2023, IntegrityPress.org