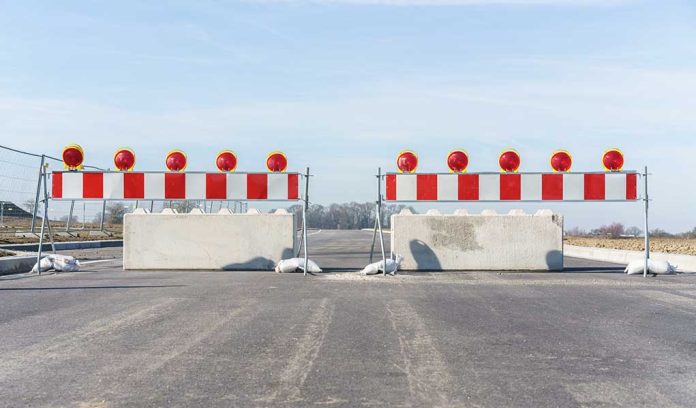 (IntegrityPress.org) – Protesters who are demonstrating for a ceasefire for the Israeli-Gaza conflict delayed the departure of a US military supply ship from the Port of Oakland on Friday, November 3. They secured themselves to the vessel, preventing its movement. They also completely obstructed the entrance to the entrance of the container where the carrier Cape Orlando was docked. The ship, protesters claim, has been loaded with weaponry and military supplies in Tacoma, Washington, with its destination set for Israel.
The protest was orchestrated by the Arab Resource Organizing Center, a San Francisco-based group About 200 demonstrators, many of whom brandished Palestinian flags and placards demanding a cessation of US military aid to Israel, participated in the protest. The demonstration has not disrupted other cargo handling activities at the Port of Oakland, as confirmed by a port spokesperson.
Three supporters of the Palestinian cause held onto a rope ladder, preventing workers from closing a door to the military ship. Despite efforts by a US Coast Guard negotiator to persuade them to disembark, the protesters stood their ground.
According to Palestinian protester Meena Abushamala, the ship is a military ship going to pick up weapons and supplies and give them to Israel. Abushamala, who alleges that she lost multiple family members in the conflict, expressed frustration with the continued supply of aid to Israel by the US.
Noura Khouri, another Palestinian protester, also suffered the loss of a relative in a recent bombing. She emphasized the emotional toll of the ongoing conflict on those directly affected.
Authorities finally removed the three protesters clinging to the rope ladder shortly before 3 pm, allowing the ship to depart from the port. While the protesters were disappointed, they expressed hope that their actions would influence policymakers.
The US Coast Guard detained the three individuals who had climbed onto the ship, but specific details regarding the investigation were not disclosed due to its ongoing nature. The Coast Guard confirmed that multiple individuals are under investigation.
Copyright 2023, IntegrityPress.org