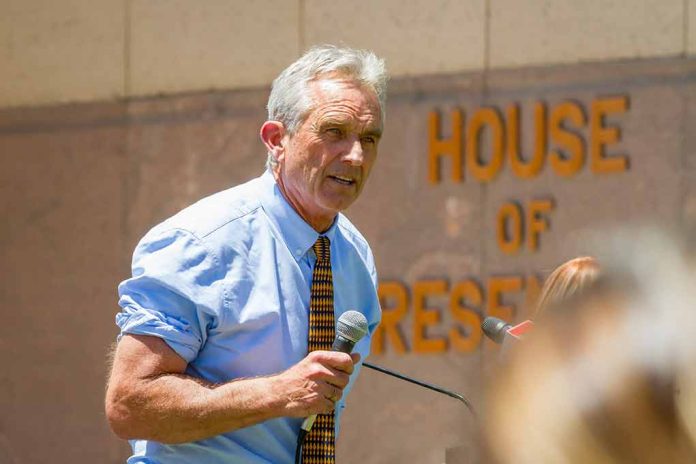 (IntegrityPress.org) – A super PAC in favor of Robert F. Kennedy Jr. has initiated a poll to gauge his backing as an Independent, which means that the Democrat may soon announce a switch in party affiliation, most likely to Independent.
John Zogby Strategies is responsible for the poll on behalf of the American Values 2024 PAC, comes amidst mounting speculation, fueled partly by Kennedy himself, that he intends to depart from the Democratic Party in the coming weeks. The poll reveals Kennedy would be an issue for both Trump and Biden if he ran as independent.
The numbers in the survey reflect a more optimistic outlook for Kennedy's prospects than independent polls have shown. The poll's authors argue that this data undermines Democratic concerns that Kennedy would act as a spoiler by aiding Trump in securing victory, asserting that it is actually the opposite, that Kennedy would run more votes than Trump or Biden.
While Kennedy has not officially declared himself a third-party candidate, he has teased a significant announcement scheduled for October 9 in Philadelphia, with Mediaite reporting that he is planning an Independent bid—a report not yet confirmed by his campaign.
Currently, Kennedy is running as a Democrat. His current polling indicates he is around 15% in the main race against Biden, and the other mainline Democrat, Marianne Williamson.
Managed by former congressman Dennis Kucinich, Kennedy's campaign has expanded its field operations with offices in both South Carolina and New Hampshire, and a recently opened headquarters in New Jersey. Kennedy has also intensified his campaign trail efforts with multiple visits to South Carolina, New Hampshire, and southern states.
American Values 2024 is augmenting its presence through a "Kennedy caravan," a campaign bus designed to attract supporters. It has been used for protests outside the last Democratic National Committee meeting in Washington and multiple stops at universities in South Carolina.
Copyright 2023, IntegrityPress.org