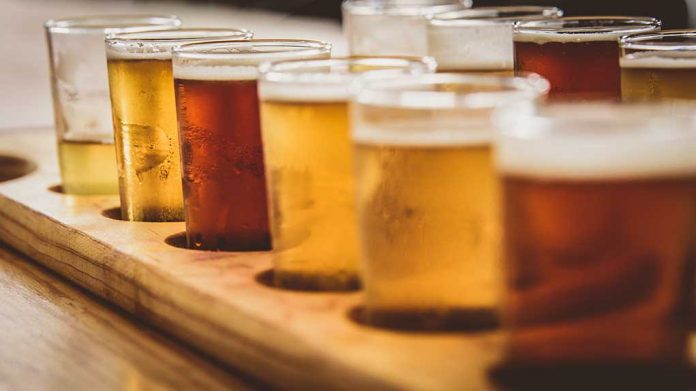 (IntegrityPress.org) – A beer brand, positioned as a "free of wokeness" rival to rival Bud Light, generated half a million dollars in revenue within 12 hours of releasing a special edition can featuring the mugshot of former President Donald Trump. Seth Weathers, the CEO of Ultra Right Beer, told news outlets that sales surged significantly following the special edition can's launch, equivalent to over five truckloads of cans.
Weathers expressed astonishment at the overwhelming response to the collector cans, which they named 'Conservative Dad's Revenge,' considering them the most sought-after collector beer cans in American history.
The company's website pledges to donate 10 percent of sales to the GOP defense fund in Georgia, emphasizing their commitment to supporting American patriots facing what they perceive as unjust persecution. The cans feature Trump's historic mugshot in monochrome against a black background, accompanied by the words '100% American beer.'
A six-pack of these cans is priced at $25, with additional shipping charges.
While the website asserts that it is not endorsed by Trump, its narrative aligns with the idea that Trump is facing opposition from corrupt, politically motivated forces attempting to derail his 2024 White House bid. Weathers, who managed Donald Trump's 2016 campaign in Georgia, established the beer company in protest of Bud Light's 'woke' marketing campaign.
In April, Bud Light partnered with a transgender influencer, creating a personalized can featuring Dylan Mulvaney's face for their March Madness NCAA campaign. This move triggered outrage among conservatives, leading to a boycott of the brand and a subsequent decline in beer sales. Liberals criticized the company for not displaying enough solidarity with the influencer. As a result Budweiser's parent company experienced a significant drop in market value, and two top executives took leave from the company. Within just 2 weeks of its launch in April, Ultra Right Beer gained over 12,000 customers and sold over 20,000 six-packs.
Copyright 2023, IntegrityPress.org